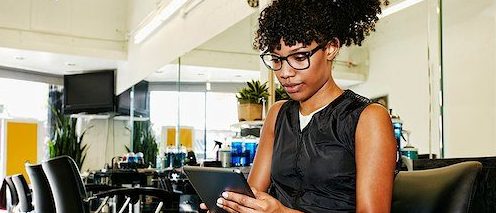 Kat's 4 pm client just texted to say she was running a little late–again.  Despite being a little annoyed, Kat replied and patiently waited for Sharon to arrive.  Sharon huffed as she sat in the chair and explained her tardiness.  "There's always a long line at the bank," Sharon complained, "Just my usual style please."   Kat realized Sharon also needed a trim and deep conditioner.  She recommended the additional services, but Sharon only withdrew enough cash to cover her usual style.  Kat just experienced why stylists fail to cash in on more sales and additional services.
Why Stylists Fail to Cash In
Sour on Technology
Salon credit card processing companies have left a sour taste in the mouths of many small business owners.  In the past, entrepreneurs who wanted to offer electronic payments were burdened with high fees, binding equipment contracts, and headaches over disputes.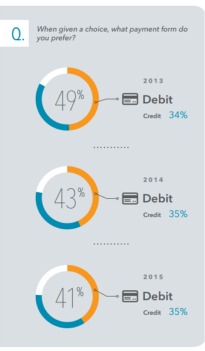 In a survey conducted by TSYS, 82% of people prefer to use a debit card for purchases.  Credit card processing was chosen second.  Cash ranked as the least preferred payment method.
Many people opt to carry less cash for safety reasons.  Others don't want to hassle with visits to a local bank.
Businesses that offer the convenience of electronic payments also see an average increase in sales.   
Flexible payment options boost your client's experience and overall customer satisfaction.
"Consumers have many choices in how they pay, and they are generally looking for options that are safe, convenient and fast."  – TSYS® U.S. Consumer Payment Choice Study
Stuck on More Clients
Growing your salon business doesn't have to mean booking more clients.  Focus on growing your pockets not your client list.  Not retailing is why stylists fail to maximize each transaction.  Offering retail products is a great way to teach your clients how to maintain their style between appointments.
Missing The "Wow" Factor
Why stylists fail to cash in on the "wow" factor. Adding services enhances the "wow" factor.  Clients with options to add extras are more likely to refer others.
Simple. Tailored. Affordable.
Technology has come a long way.  Credit card processing is now more affordable and attractive for individual stylists.  Sure, there are still processing fees charged for electronic payments, but the opportunity to grow your business income will exceed the fees.  Many companies, like Paypal and Square, offer competitive rates and supply electronic card readers for free.  Your local bank or credit union may also have products that work.
---
The right tools
"Using Technology to Grow Your Salon Business" will teach you common mistakes to avoid so you can save time and headaches.
If you want to grow your salon, this book is a must.  You'll find a glossary of helpful terms at the end to help make social media and technology easier to understand and navigate.
Reach more clients
Being visible to potential clients is key to growing your business. Otherwise, new clients won't know you exist.  Our book will teach you how to maximize your exposure on multiple platforms and mobile devices.
---
5 Reasons to Accept Credit Cards
Client Convenience
Your clients will appreciate the option of skipping the ATM.  Some may still want to pay in cash, but having more payment options provides greater convenience.
Increased Sales
Retailing products is a great way to increase your bottom line and help clients to maintain their style.
Increased Tips
Most salon credit card processing systems allow you to accept tips.  Clients are more inclined to add a little extra when prompted as part of their normal transaction.
Easy Record Keeping
Credit card processing systems help salons keep track of their clients and make record keeping a breeze.
Business Credibility
Using a credit card processing for salons provides records of your business income and better tracking of where your money goes.  This is useful when filing taxes or applying for credit.
---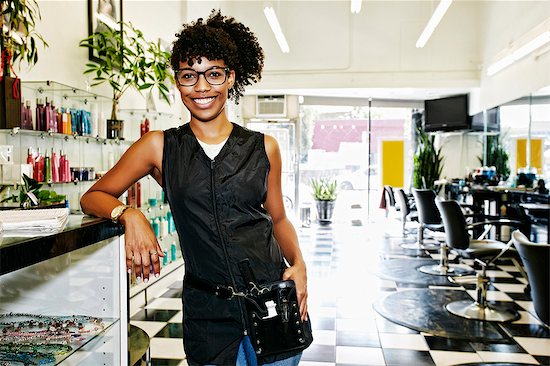 Kat decided to add Paypal as an option for her clients.  She increased her prices slightly to cover the cost of credit card processing fees.  Her clients were understanding and welcomed the change.  Sharon was particularly delighted to avoid the long lines at the bank.  She's be on time for her appointments ever since and enjoys treating herself to additional services.
Kat was pleased to provide additional services to her clients when needed.  The addition of Paypal improved her clients' overall experience.  As a result, Kat received more tips and even a few new client referrals.